Zifan Zhao
Zifan is interested in the digital art and participatory art. Having a background of education and fine arts, she has been thinking about how curation can link to public aesthetic education.
Zifan is SoC Budget and Finance manager, she looks towards the sustainability of our event and will develop the plan for the legacy of the project.
Zifan︎
03/11/21

---
Hello friends,
I am Zifan from SoC. The final turn is usually changeable and we did encounter some troubles.
The past October was literally a stressful month for our group: someone almost missed the dissertation deadline, someone had a problem with visa and had to go back to his country then come back. And today, we were just informed that Her: She Loves Data can't join us so we have to deal with the emergency promptly.
However, all these would not stop our steps,
our project will still happen this weekend (6th-7th) in Dundee.
We are looking forward to seeing you online/offline!!!
Here, I want to share with you the latest development of our work. As you can see, on the home page of our website, there is our 2-day programme and if you click, each title will lead it to its details, including the Livestream link. Due to Covid19 limitation, the gallery can only allow 10 people to access it. But we strongly suggest you book the tickets on Eventbrite (to be cyborgs!) and we will send you the password to pertecipate and intervene in our meeting.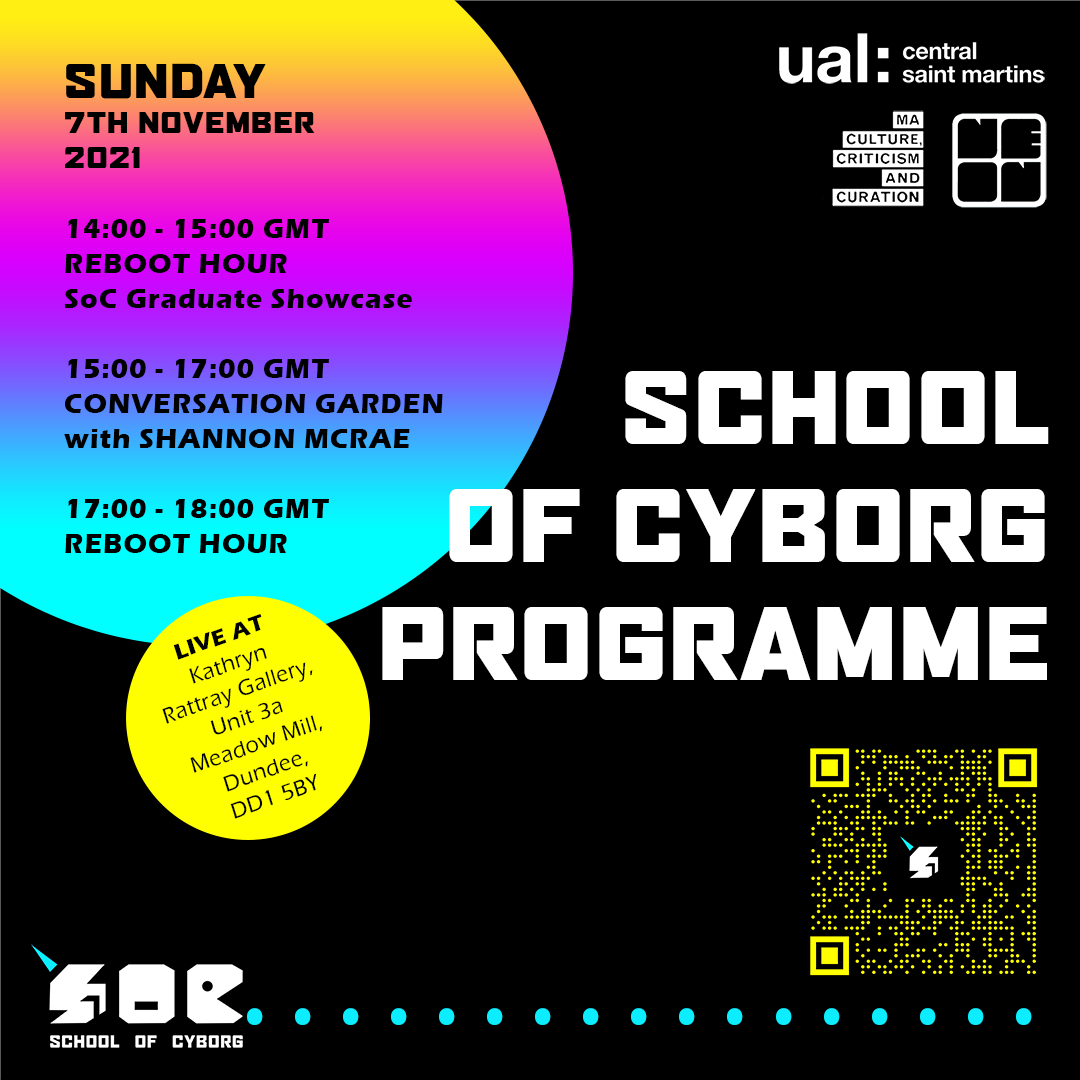 In terms of our social media, the countdown has begun every day we will indtorduce someone! So, if you still not follow us, please do! 🤖
Instagram:
@theschoolofcyborg
Twitter:
@cyborg_school

Facebook:
@schoolofcyborg

You may be interested in some stories behind the scenes: we had an evaluation workshop of the project last week, looking back at our process and evaluating it. We talked about our milestones, the evaluation plan, progress, as well as pros and cons. We also developed a new idea: we would like to make a documentary to record our journey in Dundee.
After the workshop, I found that we have already gained a lot during the 5 months: our teamwork is more efficient, communication with partners is fluent, and we tackled many problems with joint efforts.
What also happened last week was that our 5 members finally met before the project was about to take place! Things are so tricky that most of the time we have someone on screen because everyone's schedule varies. It is quite nice to meet each other, which also betters our work.
Life is a rollercoaster and we got good news by the end of today! Thanks to Dr. Charlotte Webb, we have
Felipe Petik Pasqualotto/Marina Dragzilla
to join us in the AI workshop.
So, the show will go on!
Zifan
---